Latest FIFA Ranking: Nigeria Rated 3rd in Africa, Senegal, Belgium Maintain 1st Positions. World football governing body, FIFA has ranked Nigeria third (3rd) best team in Africa and thirty-third (33rd) in the world, BSNSports reports.
The FIFA world ranking, published on Thursday, July 16 on its website is the latest since the last publication on June 11, 2020.
Senegal since their emergence as Champions of Africa after winning the 2019 African Cup of Nations, retains its twentieth place with 1555 points. The Lions are ahead of Tunisia (second with 1,506 points) and Nigeria (third with 1,493). Aliou Cisse's men have not lost their first place in Africa since November 2018.
Given the health crisis linked to the Covid-19 which is shaking the world, no change has yet been noted in the FIFA rankings. At the global level, Belgium is ahead of France. Brazil is in third place.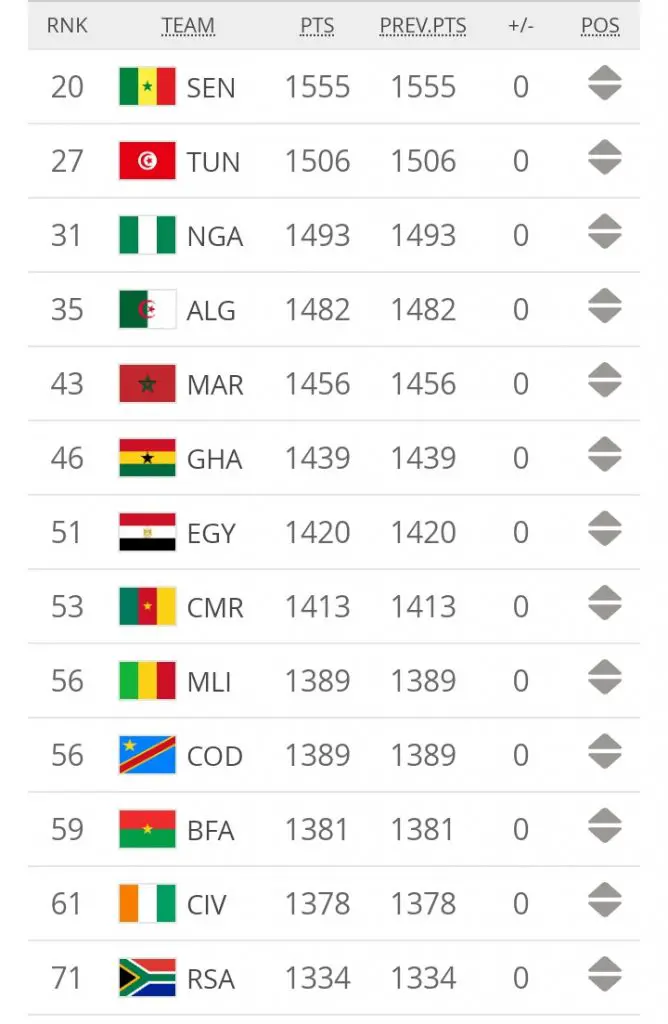 If football has slowly regained its rights in various world championships, the spread of the Covid-19 virus remains an obstacle to the holding of international matches. This again had an impact on the latest FIFA / Coca-Cola World Ranking, which logically does not change.
Belgium therefore remains on its throne in front of France and Brazil, which completes the podium. Next are England and Uruguay, still positioned in 4th and 5th row respectively. Behind, in order, Croatia, Portugal, Spain, Argentina and Colombia are in ambush.
Beyond this Top 10, 200 federations are just waiting to find themselves on football fields and upset the world hierarchy. The resumption or the start of the qualifications for the FIFA World Cup, Qatar 2022 in each confederation are in particular eagerly awaited and will animate the positions in the coming months.