Chelsea has once again adopted an ambitious approach to their recruitment strategy this summer. They have spent close to £1 billion on new players in just three transfer windows, providing current manager Mauricio Pochettino with a wide range of choices.
Mauricio Pochettino, the Argentine manager, began his tenure with the Chelsea football club by securing a 1-1 draw against Liverpool in an exciting inaugural match. Since then, Chelsea has continued to make impressive moves in the transfer market, successfully outmaneuvering Liverpool to secure the signings of two highly coveted midfielders: Moises Caicedo and Romeo Lavia. The official announcement of Lavia's arrival is eagerly anticipated.
Furthermore, Chelsea is poised to strengthen their squad even further. They are reportedly pursuing the acquisition of Michael Olise, a promising talent, in addition to the imminent return of several key players from injury. This influx of new talent and the revival of established stars bodes well for Chelsea's aspirations in the upcoming season.
At this moment, one might ponder the potential impact of these developments on the team and its playing style. How will these new signings integrate within the squad? How will their strengths and skills complement the existing lineup? These are exciting questions that intrigue both Chelsea supporters and football enthusiasts alike.
1. 5-3-2 Formation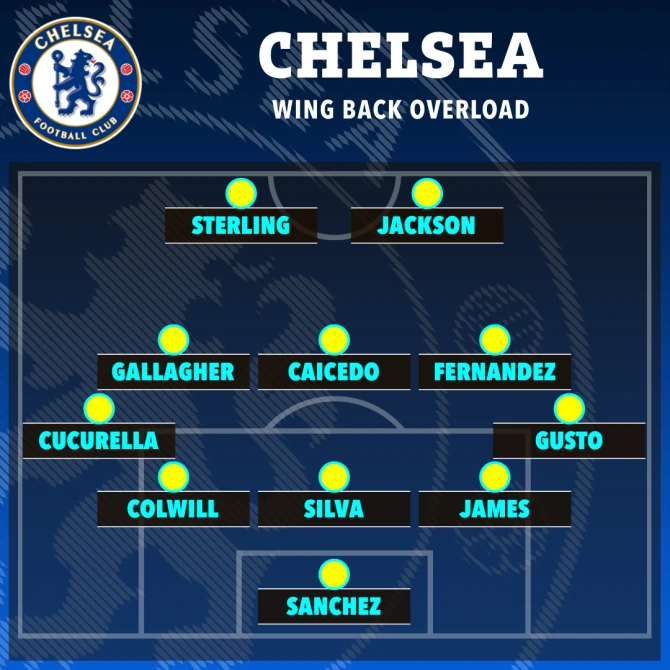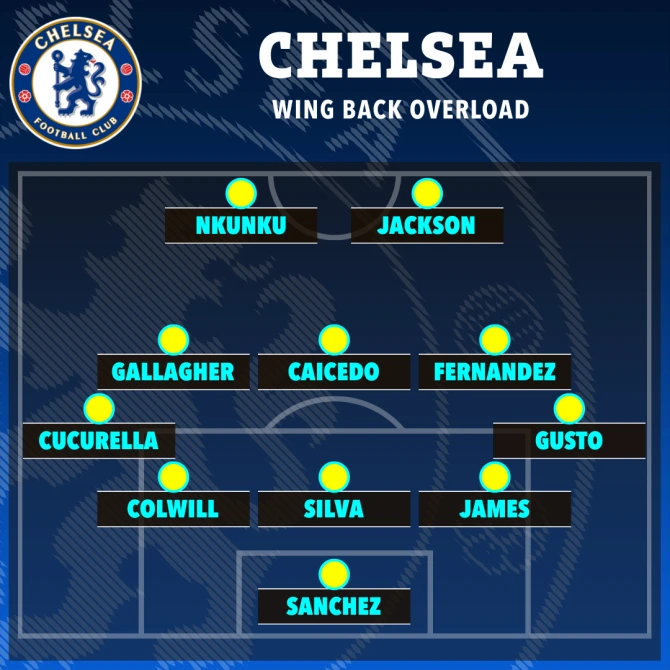 The tremendous energy exhibited by Conor Gallagher proved indispensable in the match against Liverpool. His relentless effort and presence on the field were crucial for Chelsea, especially in midfield. With the addition of Enzo Fernandez and the impending arrival of Caicedo, Chelsea's midfield is set to be a force to be reckoned with, ensuring that they will not be outpaced or overshadowed in the crucial battles that unfold in the middle of the park.
Gallagher's tenacious approach, combined with Fernandez's skillful playmaking abilities and Caicedo's dynamic style, will provide Chelsea with an exceptional balance and versatility in midfield. This trio brings a diverse set of qualities to the table, forming a formidable combination that can dominate both defensively and offensively. Their collective presence will not only bolster Chelsea's defensive solidity but also contribute significantly to their attacking prowess.
Moreover, with Gallagher's high work rate and unyielding stamina, the midfield will have an engine that can tirelessly cover every inch of the pitch. This will enable Chelsea to maintain a strong presence in all areas and dictate the tempo of the game. The trio's collective efforts will ensure that Chelsea remains competitive and can hold their ground against formidable opponents.
In essence, having Conor Gallagher alongside Enzo Fernandez and Caicedo in the Chelsea midfield guarantees a cohesive, well-rounded unit that is capable of withstanding the physical demands and intensity of the game. Their combined attributes and seamless integration should provide a solid foundation for Chelsea's success in controlling the midfield battles and ultimately achieving their goals.
2. 4-3-3 Formation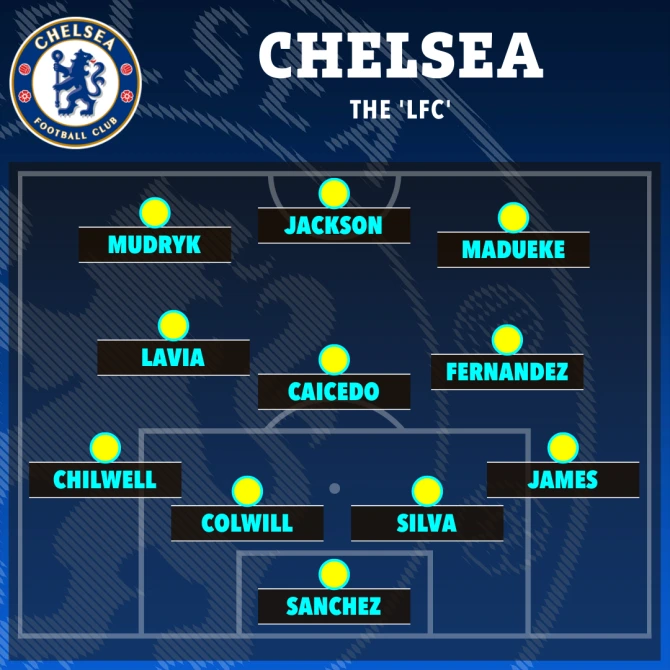 If Chelsea chooses to stick with a more traditional formation of four defenders, they can still possess a formidable advantage over their opponents by having a highly influential midfield.
The midfield trio of Lavia, Caicedo, and Fernandez, aptly referred to as "LFC," would provide Chelsea with a solid foundation in the middle of the field.
What's remarkable is that the average age of this midfield is just 20.7 years old, yet its average price amounts to £93 million.
Assuming there are no unexpected obstacles in the transfer, either Noni Madueke or Olise would occupy the right wing position, facing off against Mudryk on the left.