Chelsea will face a difficult schedule after the international break in their quest to move into the top four spots in the Premier League.
With 38 points after 27 games, the Blues are presently 10th in the Premier League standings. Also, they will face Real Madrid in the 2022/23 UEFA Champions League quarterfinal round.
In this article, we will look at Chelsea's next 5 games after the international break:
1. Chelsea Vs Aston Villa
The Blues will host Aston Villa at the Stamford Bridge in their chase for the top four finish in the Premier League this season. The match is expected to be challenging for Graham Potter's team given the impressive form of their visitors lately. Despite Aston Villa's strong form, Chelsea are aiming to secure all three points from the game due to their impressive home record.
2. Chelsea Vs Liverpool
The Blues will welcome Liverpool to Stamford Bridge in an attempt to finish in the top four spot this season. Chelsea have a chance to prove their quality and worth in this game and put out an excellent performance. Graham Potter's team should take advantage of Liverpool's recent poor form in order to secure all three points from this contest.
3. Wolves Vs Chelsea
The game against Wolves at the Molineux stadium will be difficult for Chelsea. This will be a challenging match because Wolves have not been playing well lately and will be looking to get something out of the contest. However, owing to the top players that are in the Chelsea squad, they have all it takes to secure three points from this encounter.
4. Real Madrid Vs Chelsea
The quarter-final meeting with Real Madrid will be a challenging match for Chelsea. This comes as a result of the Los Blancos being one of the competition's strongest sides. Graham Potter will be hoping that his side can succeed in this game, as the Blues have often demonstrated that they can handle pressure in big games.
5. Chelsea Vs Brighton
At Stamford Bridge, Chelsea will host Brighton & Hove Albion in their chase for a top four finish this season. Despite their visitors impressive performance so far this season, Chelsea will aiming to take advantage of their poor away record to secure all three points in this game.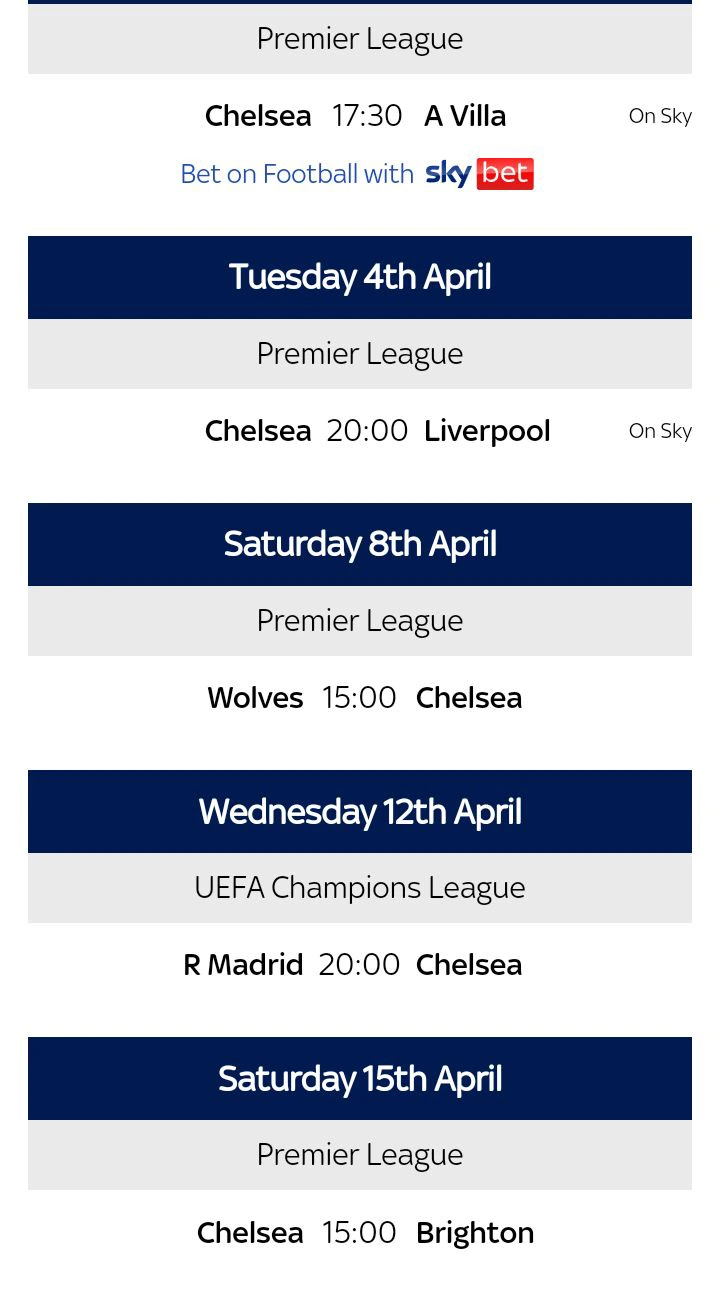 What are your thoughts on this article ? Feel free to share your opinions in the comments section.