Belgium and Tottenham Hotspurs central back Toby Albertine Maurits Alderweireld has revealed his amazing moments in the  semi-finals of the Champions League return leg victory over Ajax Amsterdam in their own soil.
The 31-year-old has make time to shares of his amazing moment of the UCL second leg semi-finals victory over Ajax which is exactly one year today.
The score Nigeria recall that Lucas Moura scored a dramatic 96th-minute winner to cap an astonishing Tottenham fightback against Ajax and set up an all-English Champions League final against Liverpool.
Trailing 1-0 from the first leg, Spurs made the worst possible start in Amsterdam when a towering fifth-minute header by 19-year-old Ajax captain Matthijs de Ligt doubled the advantage for Erik ten Hag's exciting young side.
Tottenham hit the post through Son Heung-min before Hakim Ziyech doubled Ajax's lead on the night with a sweeping finish after an assist by former Southampton winger Dusan Tadic.
That left Spurs 3-0 behind on aggregate yet, in another pulsating semi-final, Mauricio Pochettino's side scored twice within five minutes in the second half.
Moura reduced the deficit with a composed finish before the Brazilian's shot on the turn, after keeper Andre Onana had denied substitute Fernando Llorente, levelled the scores on the night and left Spurs requiring one goal to reach the final in Madrid on 1 June.
In a frantic finish, Vertonghen headed against the bar from four yards before Moura completed his hat-trick with a left-foot shot from 16 yards deep into stoppage time as Spurs won on away goals to reach their first Champions League final.
It will be the second all-English final in the competition after Manchester United beat Chelsea on penalties in Moscow in 2008.
Tears of joy for Pochettino
An ecstatic Mauricio Pochettino celebrates after his side's late, late winner
Pochettino could not contain his emotions at the final whistle and shed tears of joy as he celebrated wildly with his players on the pitch.
The Argentine, who marks his fifth anniversary in charge of Spurs later this month, was on his knees after a night that rivaled the jaw-dropping drama of Liverpool's incredible semi-final victory over Barcelona on Tuesday.
Harry Kane, who is still recovering from an ankle injury, also joined his team-mates on the pitch at the end after their extraordinary comeback.
Spurs looked dead and buried when Ziyech's outstanding first-time finish after a cut back by Tadic made it 3-0 on aggregate before half-time but they somehow pulled themselves together.
Moura was the inspiration, producing three clinical finishes, the third and decisive goal coming when he picked the ball up from Dele Alli's flick and shot across Onana.
He is only the fifth player to score a Champions League semi-final hat-trick, and first since Cristiano Ronaldo in May 2017 for Real Madrid against Atletico Madrid.
This was a significant hurdle for Spurs to clear.
They had lost their three previous semi-finals, including an agonising penalty shootout defeat by Chelsea in this season's Carabao Cup.
Having moved into a new £1bn stadium last month, these are exciting times for Spurs as they chase a first trophy in 11 years.
With another top-four Premier League finish all but sealed, they are one win away from being crowned champions of Europe.
According to the 31-year-old Belgium international the game was very tough for Spurs but the second half of the game work in favour of Tottenham as they level Ajax Amsterdam on 3-3 aggregate to through to the final.
"It was a very demanding #UCL tie against a beautiful club that I will always hold very dear to my heart and they were a joy to watch in the competition last year @AFCAjax 🤝"
"Wait for it 😅.. I'm sure we've all been there on Zoom calls during this time 🤣 #HomeOffice"
https://twitter.com/AlderweireldTob/status/1258668260788252673?s=20
"What a moment 💙! Great to reflect on that incredible night in Amsterdam with @CliveTyldesley which is exactly 1 year ago today. Where were you watching from Spurs fans?"
Tottenham Hotspurs fans reacted to the amazing moment of UEFA Champions League second leg semi-finals victory over Ajax Amsterdam that qualified them to met Liverpool in the final.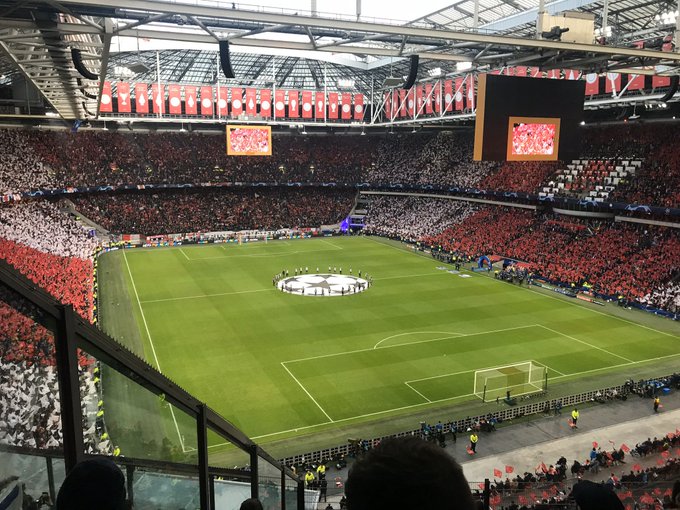 Alderweireld Toby described the game as a "Great to reflect on that incredible night in Amsterdam".
In the away end. I captured final minute on video. Some very 'useful' advice for @ErikLamela in the sequence. One of the best nights ever. pic.twitter.com/pMUtsgiSpW

— Andrew Tyzzer (@andytyzzer) May 8, 2020
https://twitter.com/SpursRC/status/1258673142010183680?s=20
"I was at home. It was a tough game to watch, my neighbours checked if I was okay because they could hear me banging my sofa and shouting. When they saw me, I was smiling with tears in my eyes. They still think I'm a nutcase"
"In the away end. I captured final minute on video. Some very 'useful' advice for @ErikLamela in the sequence. One of the best nights ever."
"Lower main stand surrounded by Ajax supporters, One of whom had been very gobby throughout the match. He went very quiet"
"Sat on my sofa with my mouth wide open. Never seen anything like it. My happiest memory as a Spurs fan I think. Keep well Toby and family"
"It was proper emotional watching it. Can't imagine how it felt to be on the pitch! The best night anyone ever had in Amsterdam, and that's saying a lot!"
"I was standing outside a sports bar in Amsterdam as they were all rammed with Spurs fans. The scenes when that winner went in was unreal!!!"
"That was one of the best nights ever as a Spurs fan! Cemented my children's lives for the club"
"I was at home, watching on tv. I nearly turned it off at half time, gutted. Something made me keep watching. The whole street heard what happened at 90+6!! Best night of my life!"
"In a pub in Livingston. The only spurs fan in the place. I was thinking of going back to the hotel I was staying in at half time. Workmate came in, so I had to stay. Thank god I did. Great night"
"I was there in the stadium that night in Amsterdam! Still can't believe that second half comeback. Pure joy hugging complete strangers".